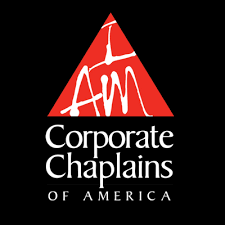 Si ha visto los valores de nuestra empresa, sabe que somos una empresa cristiana y tratamos de hacer siempre lo ético cuando se trata de nuestros empleados, clientes vendedores. Uno de nuestros valores dice "Respetar a Dios y a los demás". Una avenida importante que tomamos para lograr este valor es a través de nuestra asociación con Corporate Chaplains of America.
Corporate Chaplains of America brinda un valioso apoyo emocional y espiritual para todos los empleados de Painters USA en nuestras cuatro ubicaciones. A veces surgen crisis de la vida que puede que no se sienta cómodo compartiéndolas con sus compañeros, superiores o incluso miembros de la familia, pero aún así puede sentir la necesidad de desahogarse. Ahí es donde entran los Corporate Chaplains of America: pueden brindarle la salida que necesita para mantener intacto su bienestar mental y espiritual.
¿Sabía que cada año los conflictos en el lugar de trabajo pueden costarles a los empleados hasta mil millones de dólares? Y cuando la persona promedio pasa 90,000 horas en el trabajo en su vida, es probable que algún tipo de confusión personal lo afecte en algún momento. Los propietarios de Painters USA, Meg y Paul Cook, han dado un paso más al emplear los servicios de Corporate Chaplains of America para garantizar que sus empleados sean atendidos a nivel emocional. ¡Nosotros lo agradecemos mucho! Las visitas semanales de nuestro capellán nos dan la tranquilidad de saber que siempre hay alguien ahí para prestarnos atención y ayúdanos en tiempos difíciles.