Limpieza y revestimientos de tanques y silos industriales.
Desde silos de hormigón hasta tanques de acero, mantenga sus estructuras de almacenamiento a granel funcionando y luciendo como nuevas con la ayuda de Painters USA.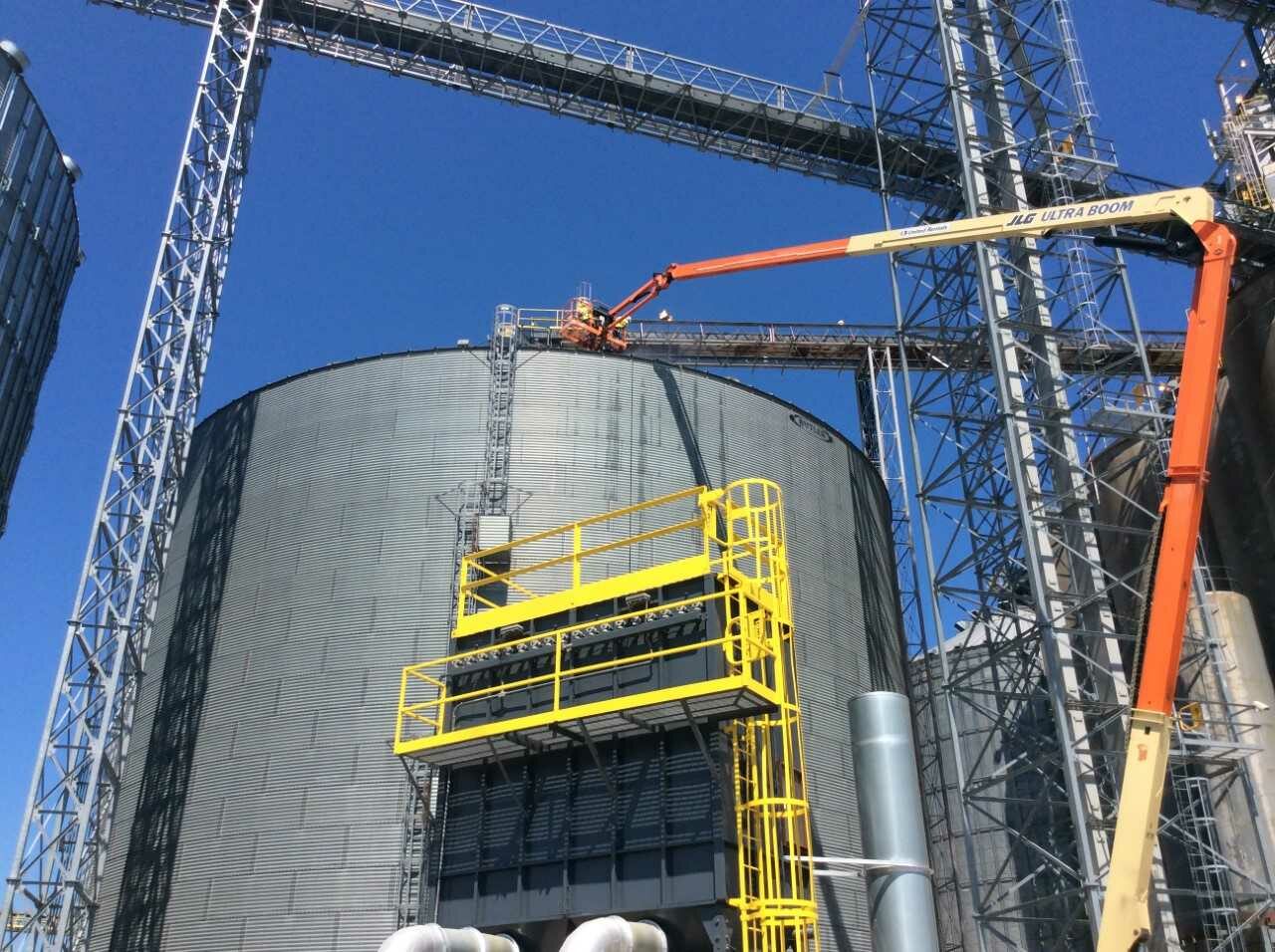 Los tanques y silos de almacenamiento de concreto y metal son un trabajo diario para Painters USA, incluso si están muy oxidados, corroídos o simplemente descuidados. Tenemos años de experiencia al servicio de industrias que dependen de tanques y silos de almacenamiento a granel, industrias como alimentación y agricultura, refinerías de petróleo y gas y fabricación de productos químicos.
Puede contar con Painters USA para que sus silos de hormigón y tanques de acero funcionen bien en cualquier circunstancia:
Los mejores productos y procesos para garantizar un rendimiento y durabilidad de alta calidad.
Cumplimiento de OSHA, USDA, FDA, NSF y cualquier otra normativa aplicable.
Extensa capacitación y certificaciones que incluyen inspectores de recubrimientos de NACE (ahora AMPP) y equipos con capacitación en espacios reducidos, trabajo aéreo y protección contra caídas.
Capacidad para trabajar en torno a los tiempos de siembra y cosecha, el clima, el tiempo de inactividad programado y otras limitaciones o necesidades de programación.
Ya sea que tenga silos de granos o tanques de almacenamiento a granel que contengan cualquier cosa, desde cenizas volantes hasta jarabe de maíz, lo ayudaremos a proteger el valor, la seguridad y la integridad de sus productos y sus inversiones en infraestructura. & nbsp; Estas estructuras requieren industrias calificadas y experimentadas Cuadrillas de pintura y equipo especializado. Los recubrimientos deben elegirse y aplicarse correctamente para proporcionar y mantener una barrera de protección. La seguridad siempre debe ser una prioridad, ya que el trabajo implica muchos peligros, desde cambios climáticos rápidos hasta trabajar en grandes alturas.
Mínimo tiempo de inactividad, rápido retorno al servicio
Los proyectos de mantenimiento de instalaciones son una interrupción, por lo que su tiempo de inactividad es nuestro tiempo de actividad. Combinamos estimación y planificación previa experimentadas, planes de trabajo detallados, procesos probados, grandes equipos capacitados, gestión diligente de proyectos y flexibilidad de programación para la calidad y la finalización a tiempo en todo momento.
Por mucho que nos encantaría pasar el rato con usted, tenga la seguridad de que estaremos fuera de sus instalaciones lo antes posible.
Experiencia tanto en silos de hormigón como en tanques de acero
Ya sea que sus instalaciones de almacenamiento a granel sean principalmente de hormigón o acero, Painters USA tiene años de experiencia trabajando de manera segura y eficaz con ambos. Nuestras cuadrillas están bien capacitadas y certificadas, y equipadas para trabajar en cualquier entorno industrial. Debido a que el concreto y el acero tienen atributos únicos y sus propios pros y contras, puede confiar en nuestra experiencia y certificaciones para proteger sus inversiones en tanques y silos y los productos almacenados que contienen. Trabajaremos con usted para recomendarle las mejores soluciones, ya sea que su industria sea cemento y materiales de construcción, granos y otra agricultura, refinación de petróleo y gas, procesamiento de alimentos y otras industrias afines.
Preparación de la superficie de los silos de hormigón
Painters USA tiene la experiencia y el equipo para realizar de manera segura una variedad de servicios de limpieza industrial, como lavado a presión or limpieza abrasiva.
Dicho esto, los profesionales certificados en recubrimientos de Painters USA recomiendan primero estudios y pruebas, especialmente para proyectos que involucran chorro de arena u otras formas de chorro abrasivo.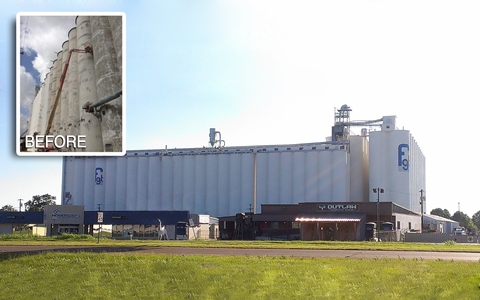 Techos de silo de hormigón
Los techos de tanques y silos requieren una consideración especial, ya que todo lo que se aplica a las paredes se amplifica en el techo. Los tanques con una pendiente plana o baja crean el lugar perfecto para que el agua se acumule y se forme un charco. Son los más afectados por los rayos ultravioleta del sol, la lluvia y otros factores climáticos y meteorológicos. Es por eso que Painters USA comienza cada proyecto de contenedor de almacenamiento con una inspección del techo, para darnos una comprensión profunda de lo que estamos tratando. Hacemos lo que podemos para eliminar o mitigar los puntos débiles en el techo que podrían dañar la estructura de almacenamiento a granel y su contenido.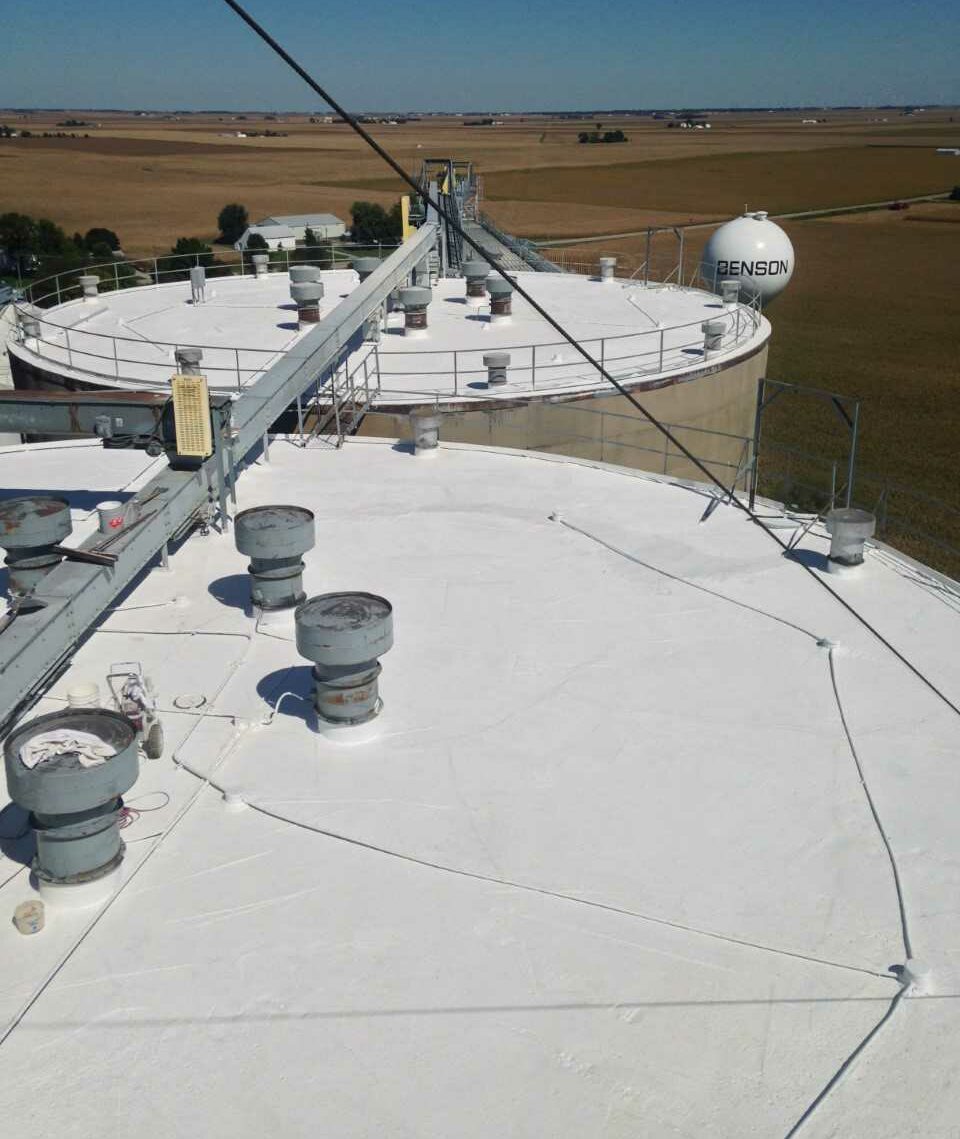 Coating technology for bulk storage containers
Coating technology has come a long way from the old tar roof coatings that become brittle over time and paints that easily peel and degrade. Today, the skilled coating professionals at Painters USA can work magic to stop pin holes, cracking, peeling and other degradation that can result in leaks and contamination.
For example, elastomeric coatings have elastic properties, which allows them to shrink or expand to accommodate temperature changes, content characteristics, how empty or full your silos and tanks tend to be, and other factors.
Benefits of elastomeric coatings
About ten times thicker than regular paint, yet flexibility that allows bending without breaking or cracking.
Airtight, no-gap barrier to protect from water and other corrosive forces.
UV resistant to protect outside tanks and silos from the glaring sun.
Can be tinted and the color is well-retained for long-lasting value and appeal.
Elastomeric coatings ensure a long lasting, protective coating for bulk storage containers like tanks and silos.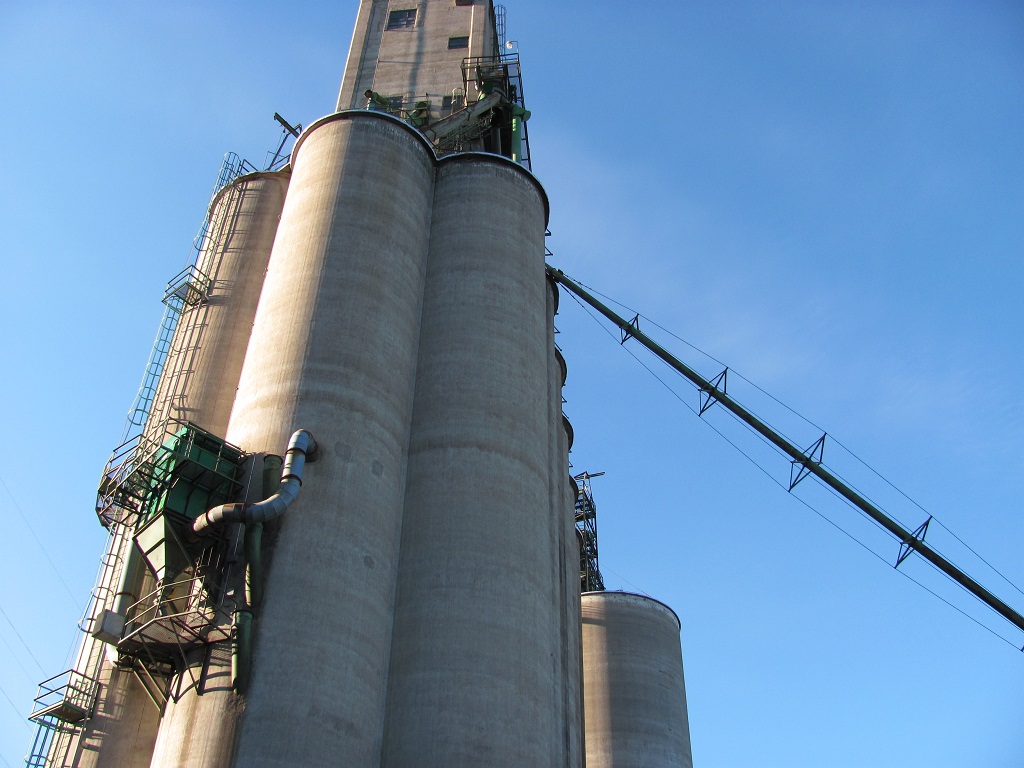 Experiencia en tanques de acero
El acero es una opción popular de tanque de almacenamiento a granel. Los tanques de acero comúnmente tienen uniones atornilladas, que están selladas para reducir las fugas, y la superficie de acero generalmente se termina en la fábrica con un recubrimiento en polvo.
Painters USA puede ayudarlo a mantener ese nuevo atractivo de acabado de fábrica y un rendimiento duradero, y se nos conoce por obrar milagros en la restauración de tanques de acero que son más antiguos o que han sido descuidados.
Aplicaciones comerciales e industriales típicas
| Almacenamiento de líquidos a granel | Almacenamiento en seco a granel |
| --- | --- |
| Productos químicos | Cemento |
| Tanques de desalinización | Carbón |
| Combustibles | Productos alimenticios |
| Resina plástica | Grano |
| Agua potable | Arena y grava |
| Almacenamiento y tratamiento de aguas residuales | Astillas de madera y aserrín |
Revestimientos de tanques para proteger el contenido
En Painters USA, sabemos que es tan importante proteger el contenido como mantener el tanque en sí. Es por eso que los revestimientos de tanques requieren consideraciones especiales. Cada producto o material que se almacena tiene sus propias propiedades y cuestiones únicas que deben tenerse en cuenta. La seguridad alimentaria debe abordarse para los productos alimentarios y agrícolas. Los productos químicos son altamente corrosivos para los revestimientos de los tanques y también presentan riesgos de seguridad como inflamabilidad y explosiones.
Los equipos de Painters USA están certificados para trabajar en espacios reducidos, como así también entrenamiento y formación en seguridad para trabajar en tanques y silos.
Necesidades específicas de la industria y cumplimiento normativo
Painters USA seguirá todas las especificaciones de su negocio e industria en cuanto a seguridad, cumplimiento y rendimiento. Nuestros expertos certificados en revestimientos pueden ofrecer asesoramiento para todas las superficies de los tanques, por dentro y por fuera.
Tenemos experiencia en muchas industrias que dependen de los tanques de acero, que incluyen:
Control y prevención de la corrosión
La prevención es la mejor estrategia para controlar la corrosión, y eso incluye revestimientos de tanques y revestimientos del tipo y espesor adecuados, aplicados profesionalmente para condiciones ambientales y operativas específicas.
La prevención también requiere un plan de mantenimiento y conservación de rutina, desarrollado teniendo en cuenta sus horarios y presupuestos. Es importante reducir los aplazamientos y las demoras que pueden generar reparaciones y arreglos más importantes y costosos.
Servicios de mantenimiento de instalaciones
Sin embargo, a veces no se toman medidas preventivas. Los gerentes de instalaciones y operaciones deben lidiar con las realidades a las que se enfrentan:
Varios tipos de corrosión química y atmosférica
Desgaste físico y operativo
Tiempo de inactividad limitado de las instalaciones
Prioridades en competencia para los presupuestos de mantenimiento
Sin una solución de "talla única", Painters USA identificará y recomendará soluciones basadas en el tanque en sí, el contenido, el entorno operativo, el tiempo de inactividad y las limitaciones presupuestarias, y otras consideraciones.
Experiencia certificada en recubrimientos
Promoción comercial y de marca
El rendimiento y la durabilidad son las mayores prioridades para tanques y silos, pero no olvidemos la visibilidad corporativa y de la marca. Con su altura y estatura, los tanques son una valla publicitaria perfecta para promover su negocio y motivar a los empleados. ¿Por qué no aprovechar ese valioso espacio con nuestras capacidades de pintura de logotipos?
Logotipos y otras pinturas de marca.
¿Cuáles son sus necesidades y obstáculos? Painters USA está aquí para escuchar, evaluar y ofrecer soluciones viables para mantener sus tanques de acero en las mejores condiciones.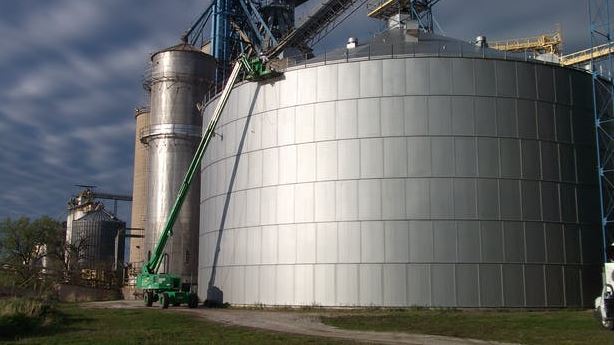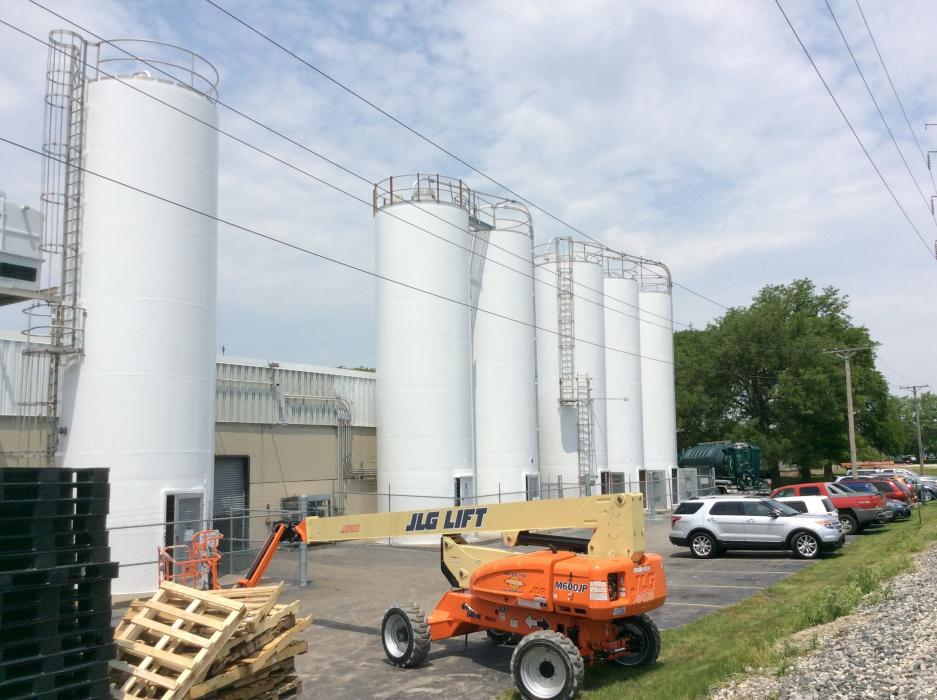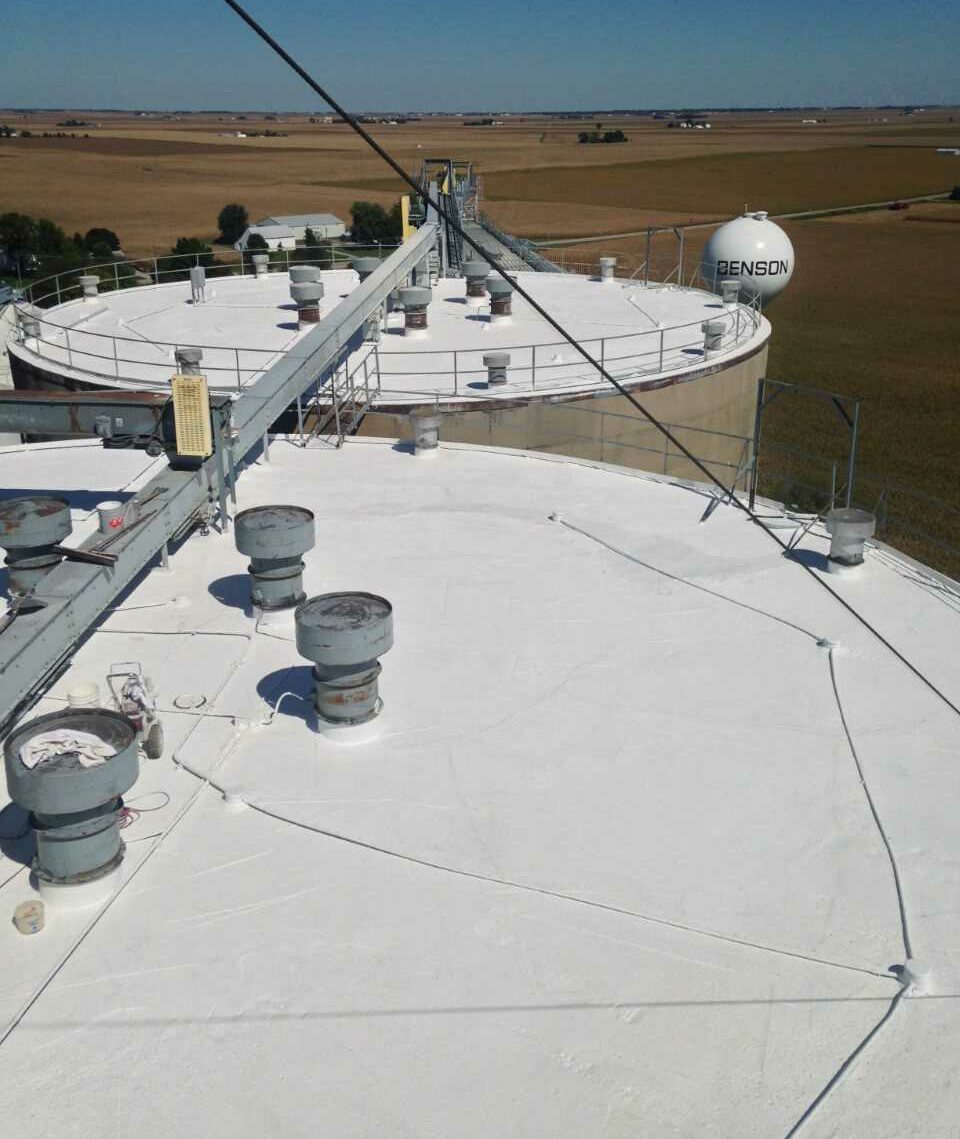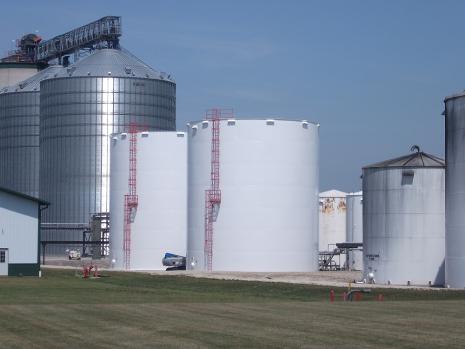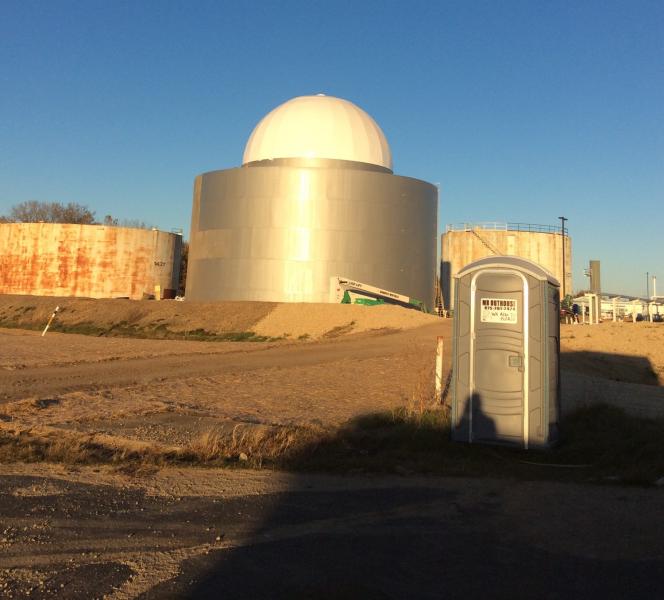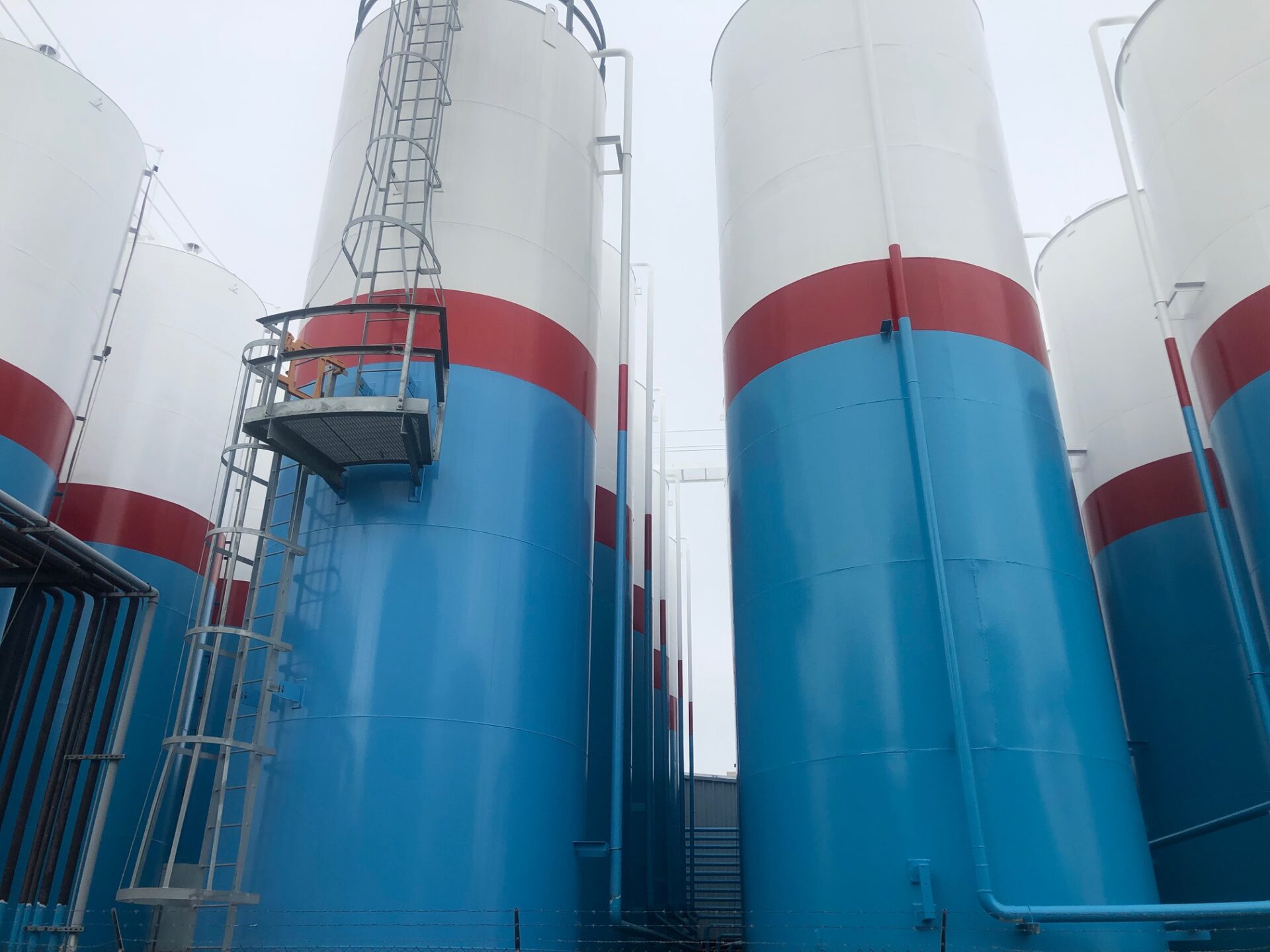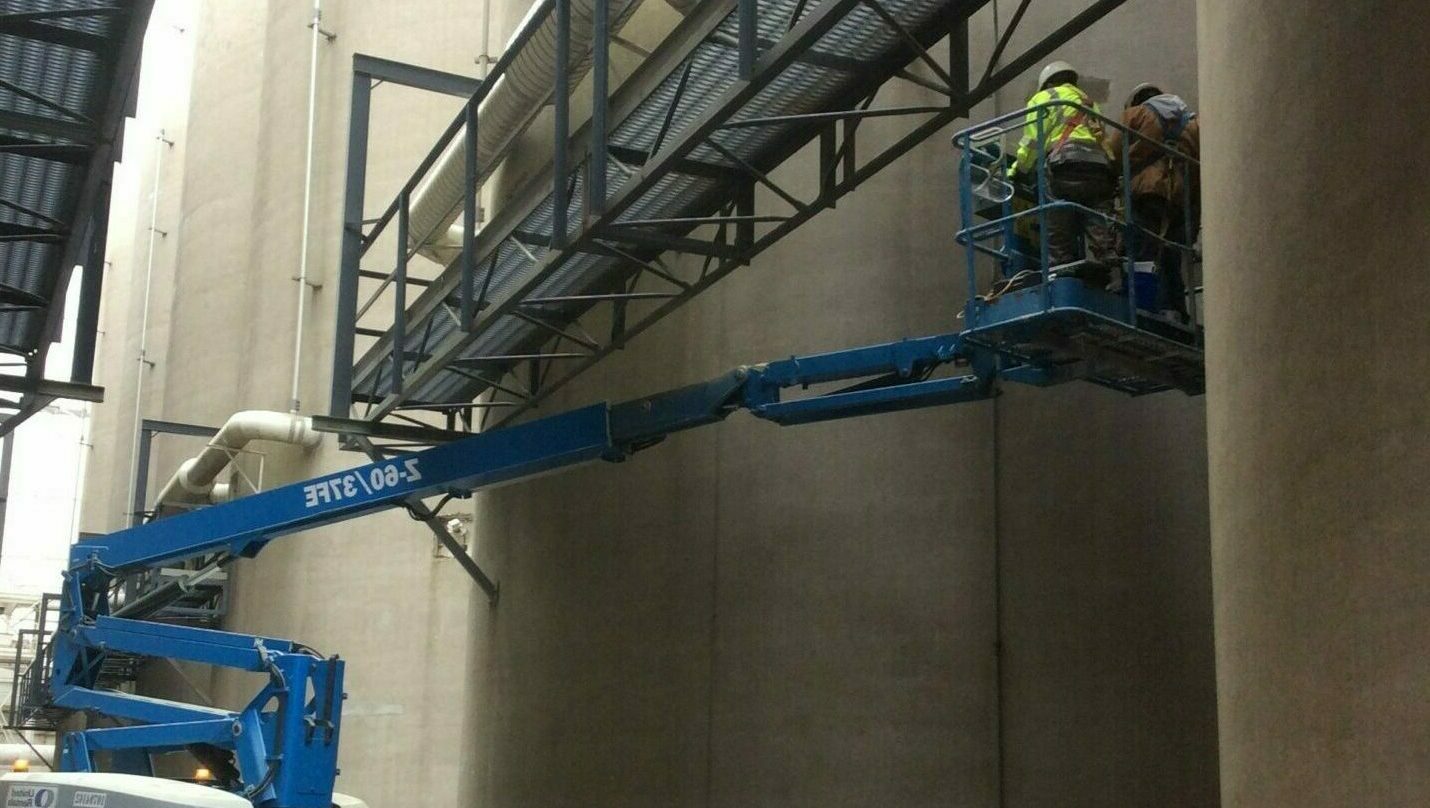 Painters USA y su experiencia en pintura de silos y tanques
El óxido y otras formas de corrosión son el enemigo número uno de los silos o tanques industriales de cualquier tipo, que deben soportar el clima y los patrones climáticos en constante cambio. La corrosión reduce la vida útil estructural y aumenta el riesgo de contaminar los productos almacenados. Muchos clientes industriales recurren a Painters USA para restaurar y mantener sus tanques y silos de almacenamiento a granel, confiando en nuestra experiencia en limpieza y recubrimientos industriales.
Soluciones que brindan resistencia y rentabilidad.
Equipos de trabajadores con la capacitación y el equipo para realizar el trabajo de manera segura y eficiente.
Capacidad para reducir la pintura con plomo y encapsular el óxido.
Protección contra la corrosión que tiene una garantía de hasta 10 años.
La falta de un mantenimiento adecuado y de rutina hará que los silos y tanques se desintegren con el tiempo. Un contratista de pintura industrial de renombre y con experiencia como Painters USA es su mejor opción para restaurar y mantener la integridad de estas importantes estructuras.
Nuestra cultura de seguridad ofrece grandes beneficios
Los lugares de trabajo seguros hacen que la fuerza laboral sea más feliz y productiva. Reducen los riesgos legales y de seguros. Protegen vidas y aseguran a las familias que sus seres queridos regresarán a casa del trabajo todos los días. Nuestro compromiso con la seguridad les brinda a nuestros clientes una cosa menos de la que preocuparse.
Estudio de caso: proyecto de silo de materiales de construcción
Una gran empresa de fabricación de materiales de construcción en Illinois tenía seis silos que comenzaban a oxidarse alrededor de las bases y la pintura exterior se estaba agrietando mucho. El proyecto también incluyó la reparación y revestimiento de la parte inferior interior de los silos, que requería una certificación de espacio reducido. Los recubrimientos debían aplicarse en condiciones climáticas adecuadas y nuestro equipo de pintura tenía que seguir las reglas de seguridad en todo momento. En todo momento se usaron cascos, gafas de seguridad y botas de trabajo con punta de acero. El trabajo fue realizado por cuadrillas con certificación de Operador de Elevación Aérea que usaban arneses de seguridad durante todos los levantamientos.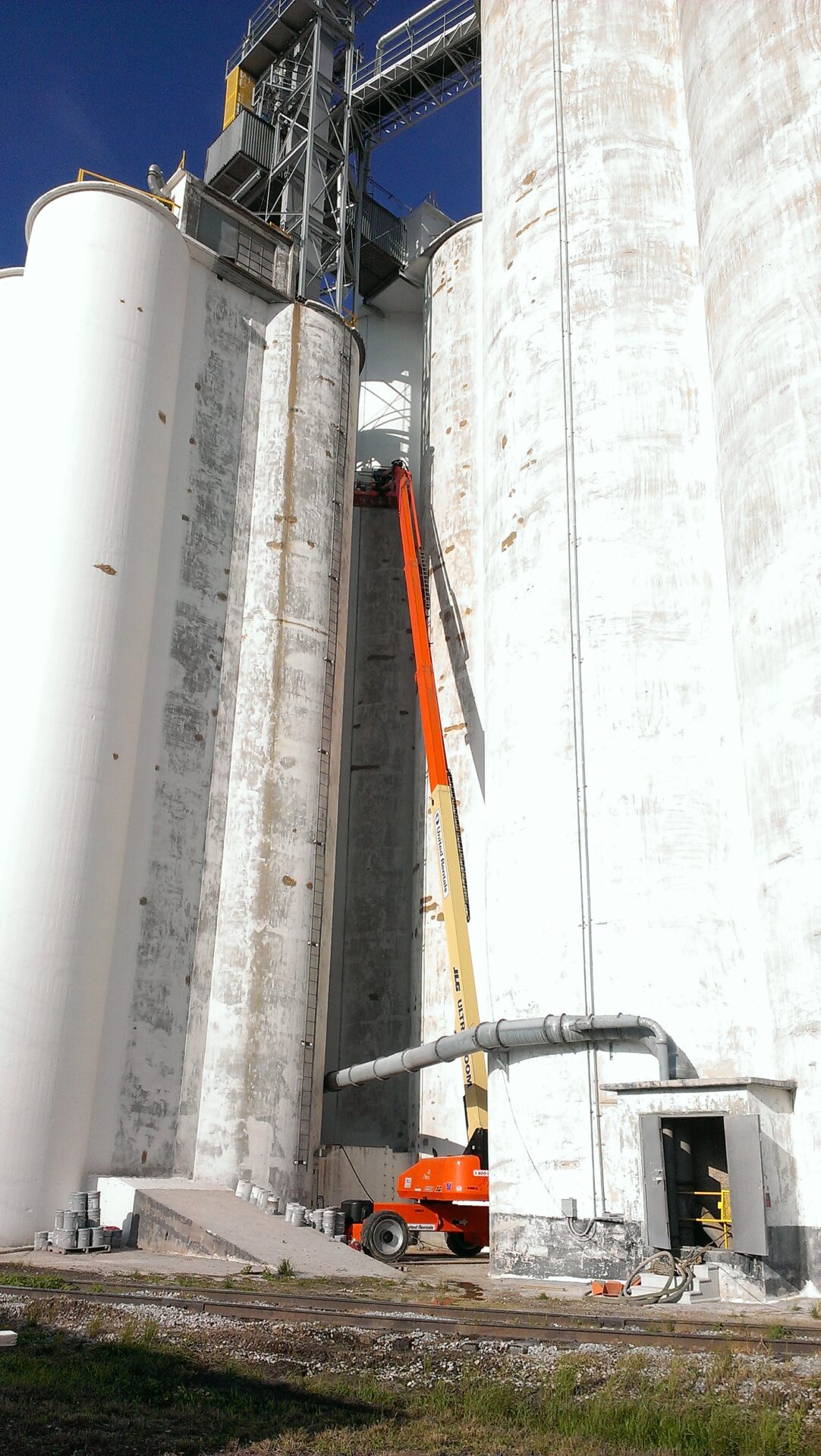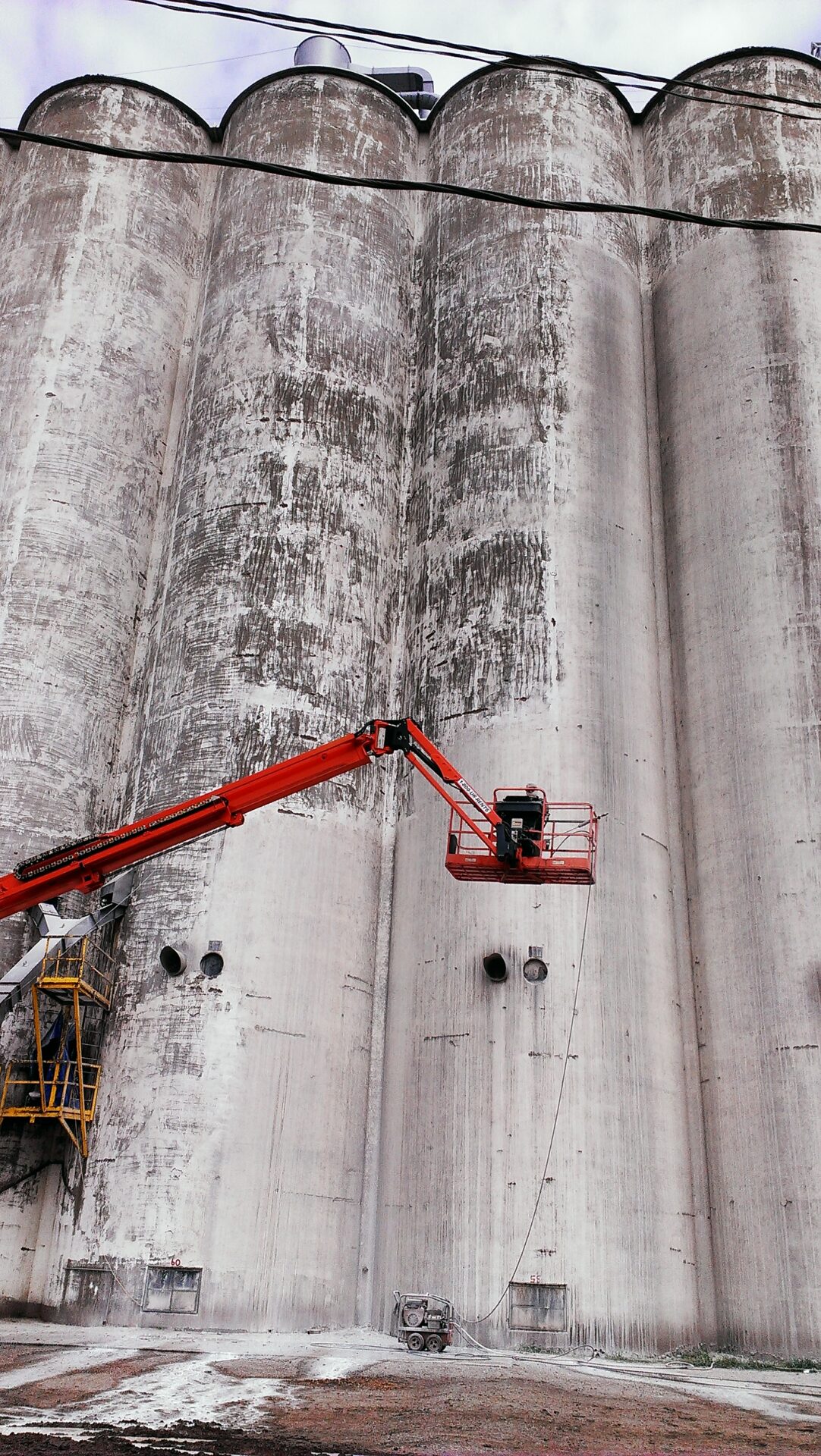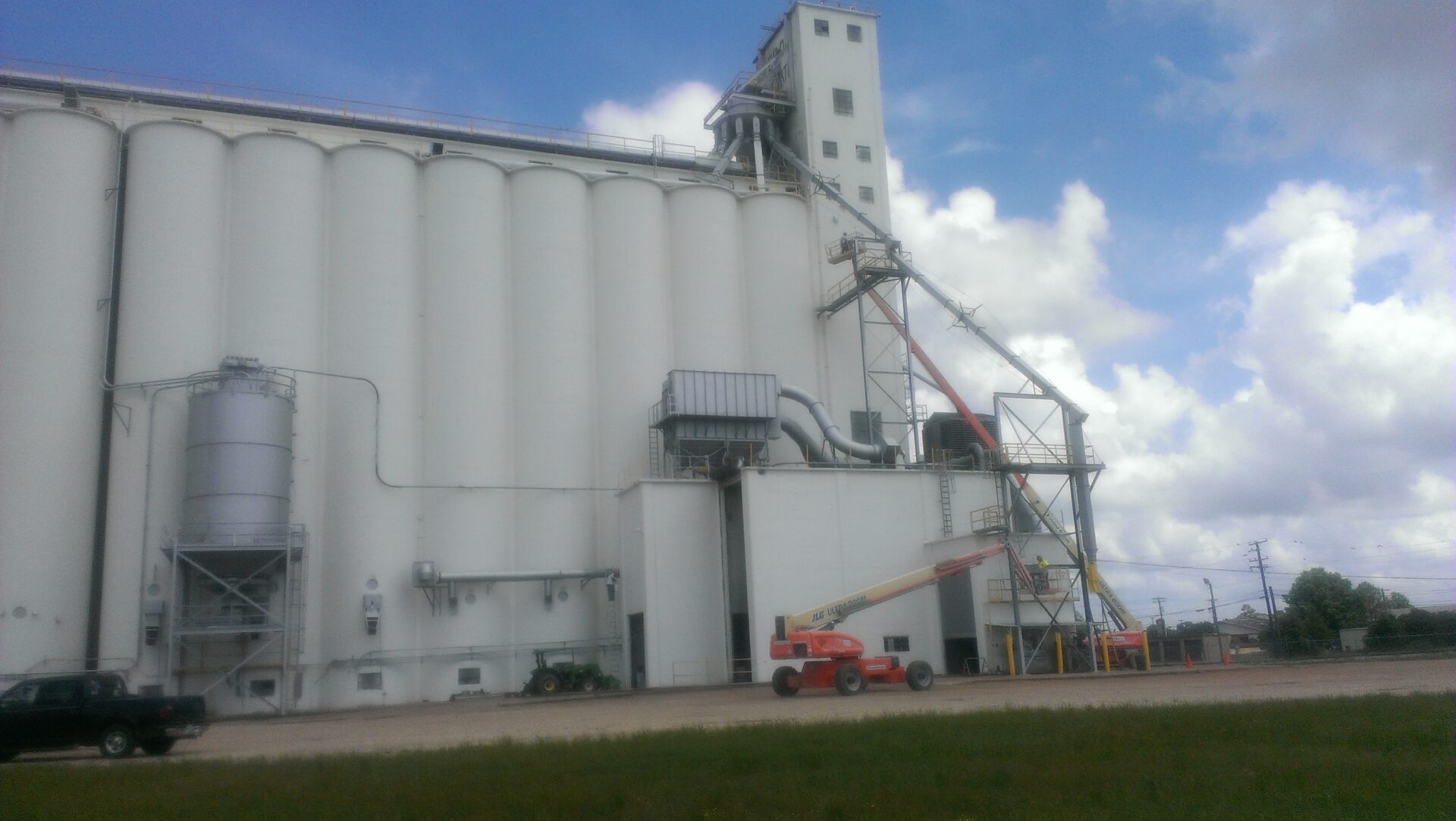 Alcance y proceso del proyecto incluidos:
Eliminación de aceite, grasa, suciedad, óxido suelto, salpicaduras de soldadura y otros contaminantes solubles lavando a presión todas las áreas a 6,000 psi según el estándar SSPC-SP-1.
Limpieza con herramientas eléctricas según el estándar SSPC-SP-3 según sea necesario para eliminar el óxido del paquete.
Enmascaramiento y lona de elementos adyacentes y superficies que no se van a pintar.
Aplicación de una capa de imprimación de epoxi de dos componentes a 5-6 mils DFT.
Aplicación de la capa superior de uretano de dos partes a 3 mils DFT.
Extracción del sello del timbre defectuoso en todos los fondos del tanque, por dentro y por fuera, reemplazando con sellador de poliuretano que se aplicó por encima del sistema hasta el pie inferior del interior.
Limpieza diaria del lugar de trabajo.
Toda la preparación de la superficie se realizó de acuerdo con las especificaciones de revestimiento para proporcionar las recomendaciones de garantía del fabricante del revestimiento. Se proporcionaron datos técnicos y hojas SDS para todos los productos. Los silos de la empresa ahora están protegidos contra el deterioro debido a la típica corrosión estacional del viento, la lluvia y la nieve en Illinois.
Beneficios adicionales al trabajar con Painters USA
Painters USA se enorgullece de un trabajo bien hecho y respaldamos nuestro trabajo. Nuestras décadas de experiencia, crecimiento y satisfacción del cliente hablan por sí solas.